If there's one thing that people know about living in Miami, FL, it's that sunglasses are a necessity. The Florida sun can be quite strong at any the time of year. At Elio's Optical Vision Center in Miami, FL, we provide a wide selection of sunglasses that can protect your eyes from harmful rays while also helping you look stylish.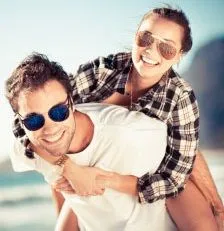 Our Designer Sunglasses
At our optical, we offer a variety of designer sunglasses that you can select from. We carry brands like Ray-Ban, Prada, and Gucci, and can help you decide on the ones that best suit your style. Along with that, we can recommend a frame and color that will preserve your vision and complement your look.
The Benefits of Prescription Sunglasses
It's important to protect your eyes and also be able to see well. We can make lenses that are coated and will fit in the frames that you want to wear. Whether you need vision correction for nearsightedness, farsightedness, or astigmatism, we can help.
In addition to helping protect your eyes from UV rays, prescription sunglasses can also keep your eyes from drying out if it's windy outside. Not only that, but they can also keep your eyes safe from debris that can enter your eyes.
When you visit us, we will perform an eye exam to make sure that you don't need an upgrade for your prescription. Then we'll craft the prescription lenses for your sunglasses. We can also help you find the right brand and frames for your face and your style.
Contact us for an Appointment Today!
If you are considering sunglasses with or without a prescription, our team at Elio's Optical Vision Center in Miami, FL, is happy to help. After your eye exam, we can recommend the pair that will help provide a sharper vision and protect your eyes. To schedule your appointment, contact our office at (305) 649-4011 today. When you're seeking an optometrist near me, we are ready to assist you!